10 Mobile App Development Companies That You've Never Heard Of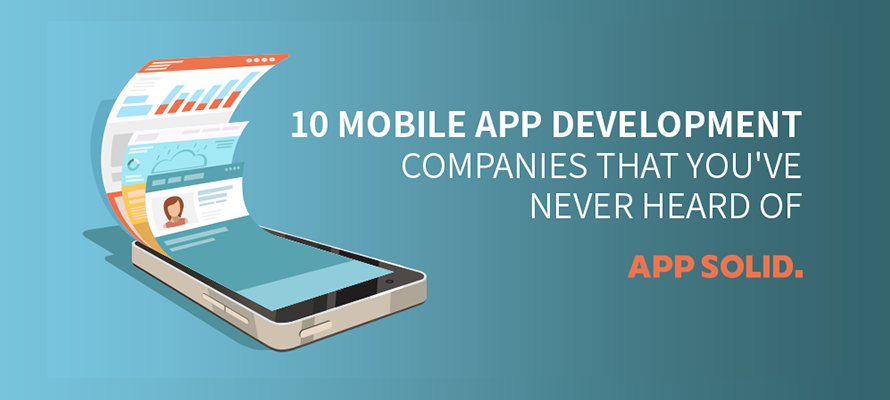 Your good reputation is your most valuable business asset — or is it? Sometimes the best way to succeed is to stay out of the public eye while quietly doing quality work. Mobile app development companies aren't all famous, even when they're turning a tiny profit. So if you think you need to invest hundreds of thousands of dollars in marketing, think again. Some of the best mobile app development companies are businesses you've never heard of.
What do they share in common? They've kept their customers happy, thereby avoiding negative press. And what's a vital ingredient in the recipe for happy customers? Security measures that protect those customers. If you're not sure where to begin with your own app security, AppSolid is here to help.
Creator of Skiplagged, one of the most-lauded mobile travel apps, this company has somehow managed to remain out of the public eye. The company promises that they're better at finding cheap flights than any other business, and the evidence supports that claim. United Airlines actually sued Skiplagged for making cheap flights so accessible.
In a world of millions of apps, what better way could there be to earn a tidy living than to help people build more apps? Most companies don't have the time or inclination to build their own apps, and that's where The App Builder comes in. This little-known business aims to unlock access to app development for even the most tech-phobic brands.
Banjo bills itself as an "event detection engine," with access to events as diverse as concerts, festivals, and local gatherings across the globe. Its mobile apps connect consumers with a wide range of public events, yet the company itself has never become a household name. For some users of Banjo, stylized Ban.jo, only adds to the company's cache.
Founded in 2009, well before "app" was a household term, Dom and Tom prefers to keep its brand quiet and its niche small. Dom and Tom offers end-to-end digital product development, with an emphasis on new and emerging technologies. It focuses primarily on enterprise solutions, including small businesses, startups, and even industry giants.
With its global presence, you might think that AppInventiv would be a household name. The brand prefers to stay under wraps, letting its apps — and strong reputation — do the talking instead. They've built and launched more than 200 apps, with a specialization in the iOS app space.
Wolfram is the creator of Wolfram Alpha, a smarter alternative to Siri. Sick of being redirected to Google when Siri doesn't know the answer to a question. Wolfram offers information from its comprehensive database, acting as a smarter and more modern encyclopedia. Though users love the stable, responsive app, Wolfram itself is not a well-known household name.
Despite being one of the most novel mobile apps out there, Wakie hasn't become a household name. The program bills itself as a way to start a conversation with anyone in the world. You select a topic, then get a phone call from a randomly chosen person. Wakie's most interesting use is as a wake-up call service. No more alarm clocks or impersonal front desk calls. Instead, a person from somewhere on the globe — you'll always be surprised by where — calls you and talks with you until you're fully awake. How's that for a wake-up that gets you jazzed about the day?
Sick of sleepless nights, oversleeping, or waking every hour or two? Your sleep habits can provide valuable clues to why you're not sleeping. SleepBot uses the power of data to analyze your personal sleeping style, monitor night-waking, and make personalized sleep recommendations. Though this program targets one of our most important health functions, sleep, SleepBot has received little press. Take advantage of the healthful offerings of this little-known company.
Since 2007, WillowTree has developed more than 300 apps. Although it might not be a household name to consumers, WillowTree, Inc. is well-known among its corporate clients. Industry leaders as diverse as Johnson and Johnson, BabyCenter, Vox Media, and numerous others have relied on WillowTree to provide responsive and effective apps to their numerous users.
If you've ever wished that a universal television remote could actually be, well, universal and easily used on every television, then Tunity is the app for you. This app, available on both iOS and Android platforms, temporarily turns any device into a tuner for any television. Visiting the in-laws? Don't waste time searching for the remote. With Tunity, it's already in your pocket.